Her character was Amanda Grayson
Amy Louise Acker
(born December 5, 1976) is an American actress born in Texas. She is best known for her roles on the television series
Angel
as
Winifred Burkle
and
Illyria
, on
Alias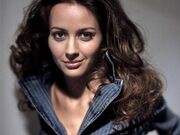 as
Kelly Peyton
, and on
Dollhouse
as Dr. Claire Saunders/Whiskey. She appeared in the ABC series
Happy Town
before its cancellation. She played
Katherine Walters
on
Human Target
thumb|link=
as
Kelly Peyton
, and on
Dollhouse
as Dr. Claire Saunders/Whiskey. She appeared in the ABC series
Happy Town
before its cancellation. She played
Katherine Walters
on
Human Target

When she was younger, she studied ballet until she suffered an injuiry and then she switched to acting. She liked how somebody could ease into another character.

On April 25, 2003, Acker and actor James Carpinello were married in California. On January 22, 2005 she gave birth to a son, Jackson James Carpinello, and on September 1, 2006 to a daughter, Ava Grace.
Ad blocker interference detected!
Wikia is a free-to-use site that makes money from advertising. We have a modified experience for viewers using ad blockers

Wikia is not accessible if you've made further modifications. Remove the custom ad blocker rule(s) and the page will load as expected.