Teleportation is the ability to instantly move from one location to another instantly.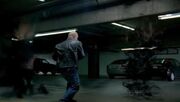 Known Users
Edit
Reed Koblenz - He was the first person to use this ability, when he used it in a fight with Jim, telling Jim he wasn't the only 'Super', when using it he turns into black smoke like substance, then reappears in the same way.
Originally, Mitch McCutcheon would have been a Teleporter according to the Producers, and as Reed is the first person other then the family to have abilities shown, he probably got Teleportation instead of Mitch, instead of creating a new ability for him.
Ad blocker interference detected!
Wikia is a free-to-use site that makes money from advertising. We have a modified experience for viewers using ad blockers

Wikia is not accessible if you've made further modifications. Remove the custom ad blocker rule(s) and the page will load as expected.