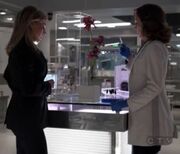 Stephanie's special project and the reason she had to go to Brazil that started a chain of events that lead to the family getting powers.
This ancient type of plant has been around since the time of the dinosaurs and for that reason Stephanie believes it deserve intense scientific study. Is this plant just a trigger or is it more involved with families special abilities?
It is not confirmed whether the plant helped give the Powells their powers or not.
Ad blocker interference detected!
Wikia is a free-to-use site that makes money from advertising. We have a modified experience for viewers using ad blockers

Wikia is not accessible if you've made further modifications. Remove the custom ad blocker rule(s) and the page will load as expected.